About us
Rural Training Centre, Karaikudi , Tamilnadu, India is sponsored by three banks viz. NABARD (National Bank for Agricultural and Rural Development), Indian Bank and Indian Overseas Bank and functioning since 9th July 2005. It has been registered as a society under the Tamil Nadu Societies Registration Act, 1975 on 3rd December 2007.
OBJECTIVES OF THE CENTRE
---
To train the youth and to impart to them the knowledge and skills required for taking up self employment ventures in the rural areas.
To train the youth to develop the attitude for working in rural areas, in rural development projects etc., and to assist them insetting up their ventures successfully.
To conduct various training programmers (either independently or in collaboration with other organizations connected with rural technology, rural development and entrepreneurship development.
Training of farmers on latest technology and developments happening in agriculture.
To provide counselling and consultancy guidelines and render all possible help to the youth in the field of self employment and rural development.
To take up programmes for accelerating the pace of agriculture and rural development by application of science and technology (techniques and technologies for cost reduction and improving productivity).
To undertake programmes which ensure raising of income levels and expanding employment opportunities of rural youth and also by involving trainees in planning, implementation and maintenance of activities taken up.
To continuously follow up with the trainees as regards their improvement/settlement, counselling them for bank facilities etc.
RELEASE OF RTC ANNUAL REPORT
Annual General Body Meet (2020-21) on 18th March 2022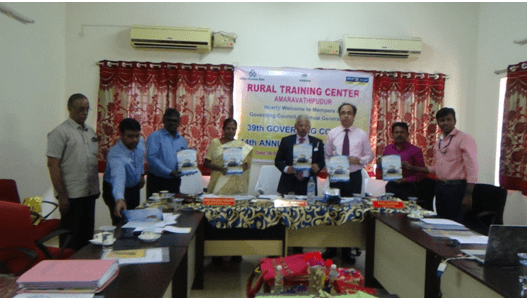 RTC Annual Report 2020-2021 release
RTC Annual Report for the Financial year 2020-2021 released by the President of Governing Council and Annual General Body Shri.T.Venkata Krishna, Chief General Manager, NABARD, TamilNadu Regional Office, Chennai through online mode from Chennai in the presence of members of Governing Council and Annual General Body Shri.M.Venkatesan, GM, Indian Bank, Corporate Office, Chennai, Smt.V.Malarvizhi, Chief Regional Manager, IOB, Regional Offce, Karaikudi, Shri.P.V.Balachandran, Zonal Manager, Indian Bank, Zonal Office, Karaikudi, Shri.A.Arun Vijay, DDM, Sivaganga, Shri.P.Venkatachalam, FCA, Auditor, Karaikudi, Shri.P.Arumugam, Director, RTC and Shri.A.Ganesan, Incharge-Asst Director, RTC.