CGM SPEAKS
Skills and knowledge are the driving forces of economic growth and social development. Today, India is one of the youngest nations in the world with more than 62% of its population in the working age group (15-59 years), and more than 54% of its total population below 25 years of age. The National Policy for Skill Development and Entrepreneurship, 2015, envisages that 109.73 million additional skilled manpower will be required across24 key sectors by 2022.
It is a matter of pride that the Rural Training Centre, Amaravathipudur, Karaikudi, jointly promoted by three Banks viz., NABARD, Indian Overseas Bank and Indian Bank has been a pioneer in the skill development and is entering the 14 th year of its establishment. Over the years, RTC Karaikudi is rendering yeoman service to rural youth in imparting skill and knowledge and ensuring sustainable livelihoods and therefore plays a pivotal role in nation building.
Since its inception in July 2005, RTC has conducted 467 training programs which have benefited 12754 persons as on 31 March 2018. New and innovative training programs in Fiber Re-imposed Product, Lead Acid Battery Care and Maintenance, Paint and Coating for Corrosions Protection and Two Wheeler Mechanic were introduced in the year 2017-18.Awareness programs like Legal Awareness, Vigilance Awareness, EDP classes in colleges were organized.
With good infrastructure I hope that RTC will continue to be a training hub par excellence in providing holistic and innovative training.
I appreciate the staff of RTC Karaikudi, Senior Bank Executives on the Board of Governing Council, other Officials of Sponsor Banks, Government Departments and Resource Persons, who jointly work for the success of this mission.
RELEASE OF RTC AUDIT REPORT
Annual General body meet (2017-18) on 19 February 2019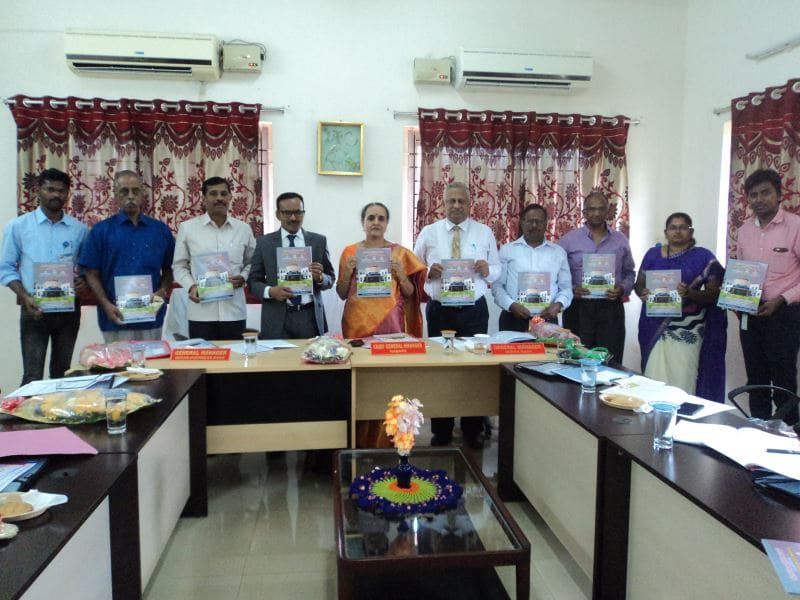 Release of RTC Audit report by Smt Padma Raghunathan CGM,NABARD & President,RTC in the presence of Shri. P.Veerashankar DGM,NABARD,Shri. E.Lachaiah CRM IOB Karaikudi Region,Shri. K.Venkataramanan Zonal Manager,IB,Zonal Office ,Karaikidu, Shri. N.Shanmugam AGM TNSC Bank, Head office , Shri . A. Arun Vijay DDM,NABARD,Shri. P.Venkatachalam Auditor RTC,Shri. K.Appathurai Director ,RTC & Smt.V.Kavipriya Asst Director,RTC.