Facilities
The Training Centre - Main Campus
---
RTC, Karaikudi campus is situated at Amaravathipudur –a small village which is 9 kms away from Karaikudi (a Heritage Town in Tamilnadu). It is in between Karaikudi and Devakottai Towns. The Training Campus and other associated buildings encompass 10 acres of land. The multi-crore training infrastructure building was inaugurated by Hon'ble former Union Minister of Finance Shri. P.Chidambaram on 25.08.2012.
Administrative Block
---
Four Class rooms (to train 100 persons at a time), Conference Hall, Computer Lab, Library Room, Staff Room, Auditorium with centralized AC facility.
Training Facilities
---
Both farm and non farm training programs are conducted by the Centre. Rural unemployed / below poverty line people in the age group of 18 to 45. No cost is charged for the training imparted to the trainees. Besides, the centre will provide expenses for lunch & tea (for both in the morning and evening session) daily to the trainees free of cost.
RELEASE OF RTC AUDIT REPORT
Annual General body meet (2017-18) on 19 February 2019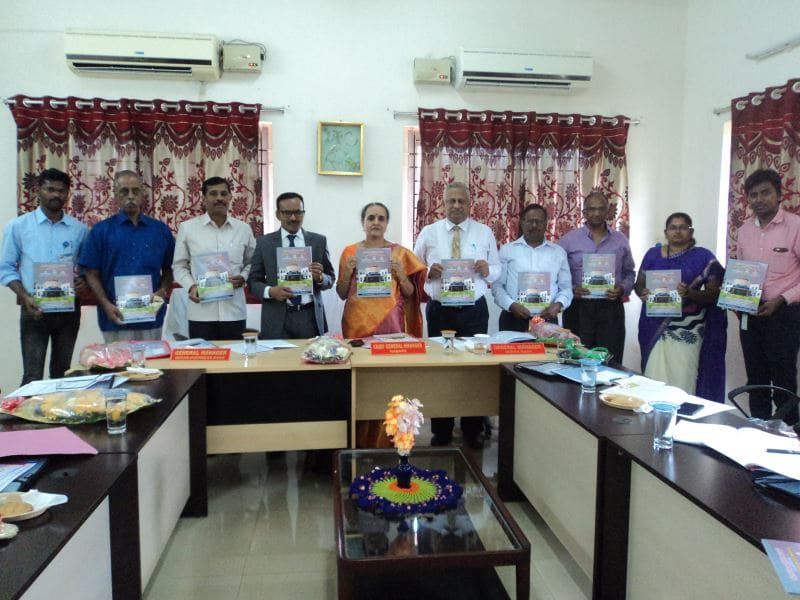 Release of RTC Audit report by Smt Padma Raghunathan CGM,NABARD & President,RTC in the presence of Shri. P.Veerashankar DGM,NABARD,Shri. E.Lachaiah CRM IOB Karaikudi Region,Shri. K.Venkataramanan Zonal Manager,IB,Zonal Office ,Karaikidu, Shri. N.Shanmugam AGM TNSC Bank, Head office , Shri . A. Arun Vijay DDM,NABARD,Shri. P.Venkatachalam Auditor RTC,Shri. K.Appathurai Director ,RTC & Smt.V.Kavipriya Asst Director,RTC.