Speech of Chief General Manager,
NABARD, Regional Office, Chennai
PRESIDENT
---
T VENKATAKRISHNA PRESIDENT
Chief General Manager NABARD, TN, Regional Office, Chennai
A "knowledge based economy" is of paramount importance, as India progresses towards its target of 5 trillion economy by 2025. Skill development, therefore, has to be taken up in a mission mode to cater to the demand of skilled manpower that will be required across all sectors.
The Rural Training Centre (RTC), Amaravathipudur, Karaikudi, jointly promoted by three Banks viz., NABARD, Indian Overseas Bank and Indian Bank has been a pioneer in skill development and it is in the 17th year of its establishment. Since its inception in July 2005, RTC has conducted 590 training programs, imparting skill and knowledge to 15257 rural youth and ensuring sustainable livelihoods as on 31 March 2021. Despite the pandemic, 30 training programs covering 497 candidates was successfully completed in the year 2020-2021.
Innovative training programs based on industry demand like Fiber Re-imposed Product, Lead Acid Battery Care and Maintenance, Paint & Coating for Corrosions Protection etc.,were introduced over the years.
Recently, RTC has entered into a MOU with Dr. Umayaal Ramanathan College for Women in Karaikudi for a period of 3 years for providing skill development training for the students of the college.
An evaluation study is being undertaken by the Centre for Women Studies, Alagappa University to evaluate the impact of the trainings from 2018 to 2022.
I commend the staff of RTC Karaikudi, Senior Bank Executives on the Board of Governing Council, Sponsor Banks, Government Departments, Resource Persons and wish that RTC will continue to be a training hub par-excellence.
RELEASE OF RTC ANNUAL REPORT
Annual General Body Meet (2020-21) on 18th March 2022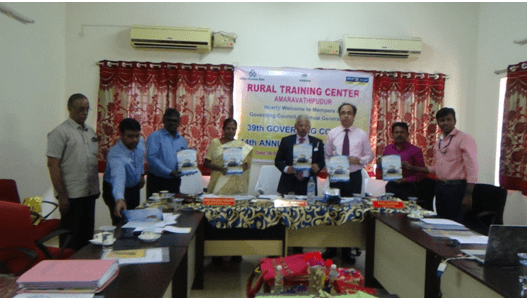 RTC Annual Report 2020-2021 release
RTC Annual Report for the Financial year 2020-2021 released by the President of Governing Council and Annual General Body Shri.T.Venkata Krishna, Chief General Manager, NABARD, TamilNadu Regional Office, Chennai through online mode from Chennai in the presence of members of Governing Council and Annual General Body Shri.M.Venkatesan, GM, Indian Bank, Corporate Office, Chennai, Smt.V.Malarvizhi, Chief Regional Manager, IOB, Regional Offce, Karaikudi, Shri.P.V.Balachandran, Zonal Manager, Indian Bank, Zonal Office, Karaikudi, Shri.A.Arun Vijay, DDM, Sivaganga, Shri.P.Venkatachalam, FCA, Auditor, Karaikudi, Shri.P.Arumugam, Director, RTC and Shri.A.Ganesan, Incharge-Asst Director, RTC.